Fit tip: We find it helpful to find another garment in your wardrobe with a similar fit or style to compare measurements with.
All measurements represent the garment when it's been laid flat - for waist or torso/chest circumference simply double the measurement given. For a looser fit, it's recommended to size up. Shopping from home? We recommend comparing these measurements to a garment you already own in a similar fabric for comparison on how it would fit.
Need sizing help while you shop? Chat with our customer experience team via the Live Chat button at the bottom of our website, and via email at info@ecologyst.com.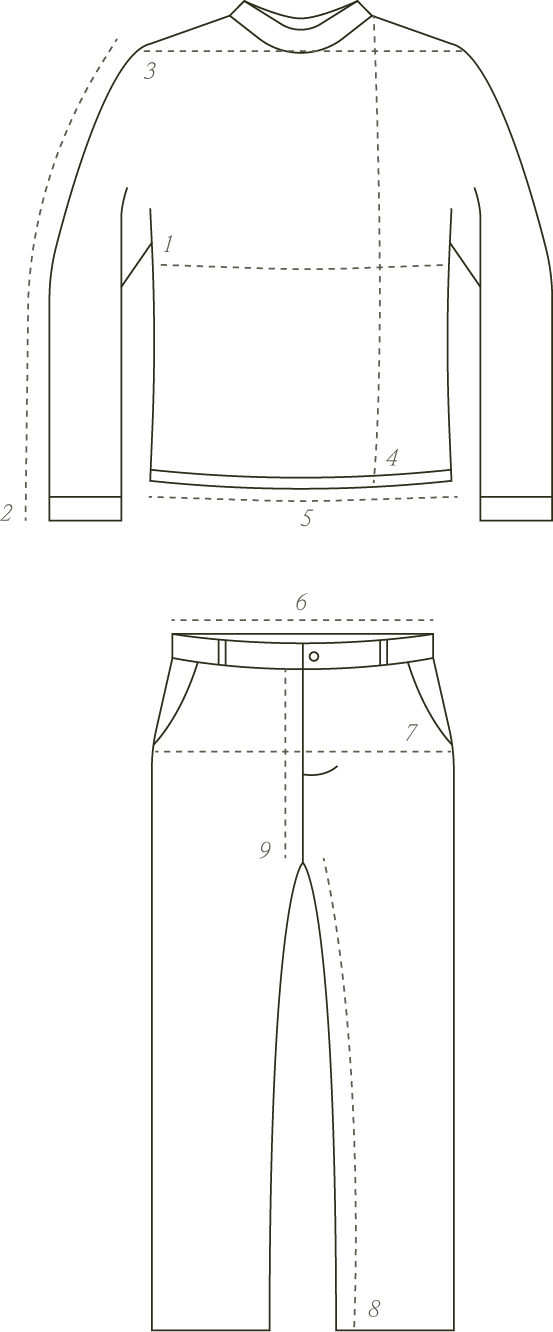 1. Chest Or Bust 
Measure from 1″ below the underarm seams straight across the front of the garment.
2. Sleeve Length
Measure from the top of the sleeve to the bottom of the hem or cuff of the sleeve. Note that raglan sleeve measurements are taken from centre back down to the bottom of the sleeve. Please refer to the garments size chart for specific instructions.
3. Shoulder To Shoulder
Measure the shoulder width across the back at the shoulder's widest points.
4. Neck To Hem
Body length measure from the highest point of the garment where the shoulder meets the neckline straight down to the hem of the garment on the front.
5. Waist Or Hem (Tops)
Measure straight across the bottom hem of the garment.
6. Waist (Bottoms)
Measure straight across the waistband of the garment without pulling or stretching the garment.
7. Hip
Measure across the widest part of the garment across the front at around 4–6″ below the waist.
8. Inseam
Measure the length of the leg from the inner seam to the crotch.
9. Rise
Measure the center front seam from the crotch to the waistband. Note that some garment rise measurements include waistband while other styles Don't. Please refer to the garments size chart for specific instructions.